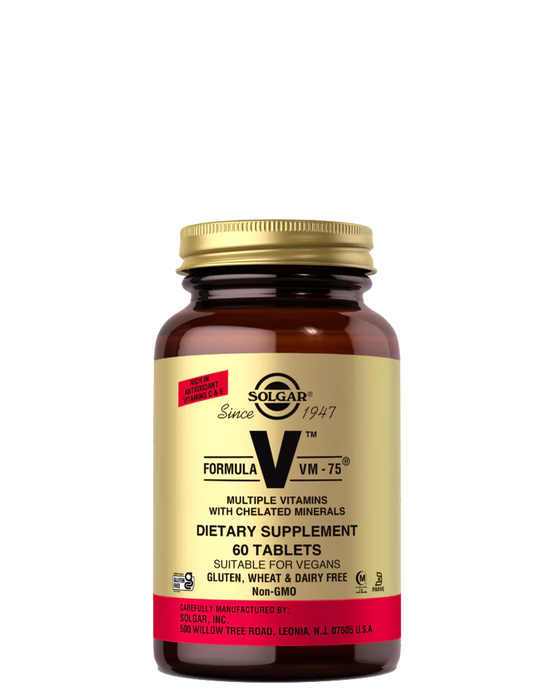 Solgar VM-75 is a multi-vitamin supplement containing a balanced blend of essential vitamins and minerals. This supplement is specially formulated to meet the daily needs of people who need extra support.
Solgar VM-75's formula is designed to contain optimal levels of B-complex vitamins, as well as vitamins C, E, and A. In addition, the supplement contains a variety of minerals, including iron, magnesium, and zinc.
Taking Solgar VM-75 can contribute to healthy skin, hair and nails, as well as supporting the immune system and general health. It is an excellent choice for people who lead busy lifestyles and struggle to get all the nutrients they need from their diet.
Each tablet of Solgar VM-75 contains the following ingredients:
- Vitamin A (as palmitate) 750 mcg
- Vitamin C (as L-ascorbic acid) 250 mg
- Vitamin D3 (as cholecalciferol) 10 mcg
- Vitamin E (as D-alpha-tocopherol succinate) 134 mg
- Thiamine (vitamin B1) (as thiamine mononitrate) 75 mg
- Riboflavin (vitamin B2) 75 mg
- Niacin (vitamin B3) (as niacinamide) 75 mg
- Vitamin B6 (as pyridoxine HCl) 75 mg
- Folic acid (vitamin B9) 400 mcg
- Vitamin B12 (as cyanocobalamin) 75 mcg
- Biotin (vitamin B8) 75 mcg
- Pantothenic acid (vitamin B5) (as D-pantothenate, calcium) 75 mg
- Calcium (as calcium carbonate, bisglycinate) 22 mg
- Iron (as bisglycinate) 1,3 mg
- Iodine (as potassium iodide) 150 mcg
- Magnesium (as oxide, bisglycinate) 32 mg
- Zinc (as bisglycinate) 7,5 mg
- Selenium (as L-selenomethionine) 37 mcg
- Copper (as bisglycinate) 0,75 mg
- Manganese (as bisglycinate) 1,75 mg
- Chromium (as picolinate) 75 mcg
- Molybdenum (as sodium molybdate) 37,5 mcg
- Potassium (as chloride) 2 mg