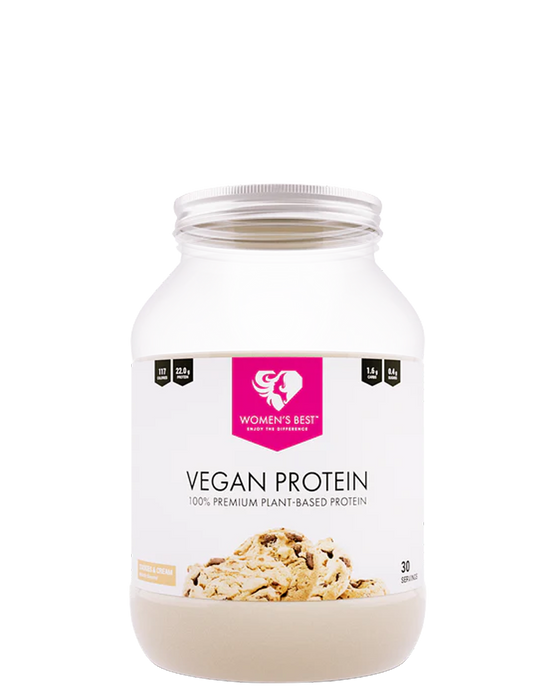 Creamy vegan protein shake
High-quality proteins
Promotes muscle growth



Vegan Protein Shake | Women's Best
Discover the deliciously creamy Vegan Protein Shake from Women's Best! This protein shake has been specially developed for those looking for a high-quality vegetable protein source. The blend of peas, hemp and fine rice ensures a complete amino acid profile and high organic quality. With Women's Best Vegan Protein you get the best nutritional values ​​in every shake.
Each serving of the Vegan Protein Shake contains only 104 calories, a minimal amount of carbohydrates (only 0.7 grams) and no less than 21.8 grams of vegetable protein. Proteins play an essential role in the recovery of muscles after intensive training or sports performance. In addition, they contribute to the promotion of muscle growth and the build-up of lean muscle mass. With Women's Best Vegan Protein you give your muscles the fuel they need.
What really sets Women's Best Vegan Protein apart from other plant-based protein shakes is the delicious creamy taste. Plant-based protein shakes often have a bitter taste and an unpleasant texture, but Women's Best managed to create a mix that is not only nutritious, but also tastes great. Enjoy the creamy texture and treat your taste buds with every sip.
Besides the fact that the Vegan Protein Shake is low in sugar and fat, it is also suitable for those who follow an active vegan lifestyle. It's a great choice for athletes, fitness enthusiasts and anyone looking for a high-quality plant-based protein source. Women's Best Vegan Protein is available in a variety of pack sizes and flavors so you can choose what best suits your needs and preferences.
At VNMshop we are proud to offer Women's Best Vegan Protein Shake. We strive to raise the profile of our store and provide high-quality products such as Women's Best Vegan Protein to our customers. In addition to our online store, we would also like to welcome you to our physical store, where you can receive personal advice and discover our full range.
As alternatives to the Vegan Protein Shake, we also recommend the QNT