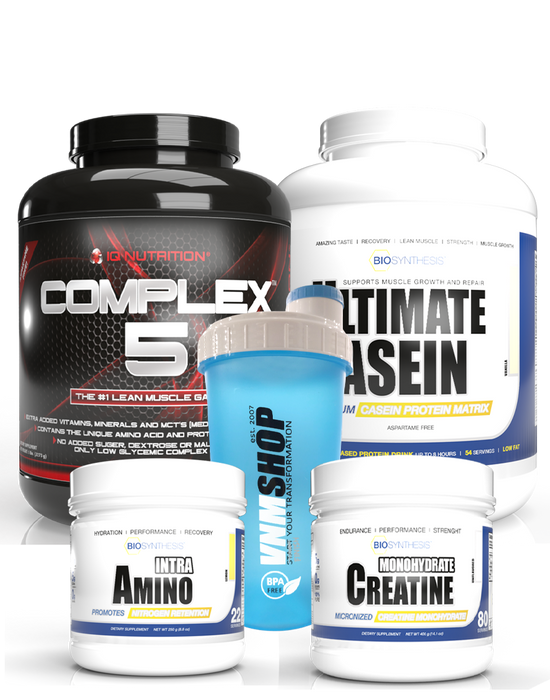 Transformation stack
Salt
Original price
€149.75 EUR
Current price
€134.00 EUR
Contents of the stack:
1x Complex-5 2.3 KG
1x Casein 2 KG
1x Intra amino for 24 workouts
1x Creatine monohydrate 80 doses


Complex 5

Would you like to
muscle mass
build without
know
? Or are you looking for an easy meal replacement, for in-between meals or for training? Then Complex-
5
definitely something for you! Easy to take, mixes well, tastes great!
lean muscle gainer
49 grams of protein per serving
No sugars or other sources of sugar
53 grams of complex carbohydrates
Added free amino acids
Everything you need in 1
Can also be used as a meal replacement
Build muscle mass without getting fat
Complex-5 from IQ Nutrition is a high-quality Weight Gainer and / or meal replacement consisting of exclusively complex carbohydrates and no less than 5 types of protein.
In this formula you are guaranteed to find less than 1 gram of sugar per serving (of 130 grams) and contains no (glucose or fructose) or inferior carbohydrates such as maltodextrin but only carbohydrates from oats and buckwheat for long-lasting energy, stable blood sugar and good replenishment of the glycogen.
Where in many cases the consumer is fobbed off with a high percentage of carbohydrates and a low percentage of proteins, the ratio of carbohydrates - proteins with Complex-5 is almost 50-50%! In addition, the special "Prozep" protein formula of Complex-5 has a very high biological value, it consists of a mix of both fast and slow absorbing proteins and it is supplemented with the amino acids glutamine and bcaa's, which are important for muscle building and recovery.
To make the formula complete, Complex-5 has been supplemented with MCTs and extra vitamins and minerals. MCTs are medium fatty acids (in this case from coconut) that the body prefers to use as fuel. The mix of vitamins and minerals ensures that your resistance is maintained regardless of the tests that you impose on your body (heavy training, stress, etc.).
Complex-5 is aspartame free.
Ultimate Casein
Time released
20gr casein protein
Great taste
Optimal muscle growth and recovery
Aspartame free
54 servings
To prevent muscle breakdown, you prefer to constantly provide your body with amino acids. Ultimate Casein consists of slow-digesting proteins that provide your body and muscles with amino acids for a long period of time. The best time to take Ultimate Casein is just before bedtime. Ultimate Casein is high in proteins, low in carbohydrates and fats. And contributes to optimal growth and muscle recovery during the night's rest due to its long-lasting amino acid release. Ultimate Casein is full of flavor and aspartame free.
Intra Amino
Pure amino acids
0 grams of sugar
Prevents muscle breakdown
Instant muscle building and recovery
Can be used before, after or during training
Tastes super tasty!
Amino acids are the essential building blocks of muscles. The branched chain amino acids, or BCAAs in particular, play a key role
at the anabolic processes of the body and prevent muscle breakdown. Many fanatic athletes also benefit from supplementation with L-glutamine.
This amino acid promotes recovery and maintains resistance.
Intra Amino already provides the athlete with fast-absorbing amino acids during exercise, including a high dose, BCAAs and L-glutamine.
This prevents catabolism during intensive exertion and the muscle building and recovery can begin immediately.
Fluid loss during exercise is accompanied by a loss of vitamins and minerals. This can stand in the way of the optimal functioning of the muscles and delay recovery. Intra Amino is therefore supplemented with a mix of vitamins and minerals that are important for athletes.

Intra Amino is low in carbohydrates, sugar and fat-free, easy to dissolve in water, and has a fresh, thirst-quenching taste.
Micronized Creatine Monohydrate
Pure Creatine

0 grams of sugar and 0 grams of carbohydrates
Build muscle mass and volume quickly
Provides strength and increases ATP
Use a loading phase
Tasteless and pure
Creatine is a nitrogen-containing organic acid. Approximately 95% of creatine in the body is found in skeletal muscle cells. These cells can store much more creatine than what you normally get with the daily diet. Supplementing with creatine products provides the muscles with extra creatine.
which ensures that you have more muscle strength during strength training and develop more muscle volume.
It has been scientifically proven that adding a daily dose of at least 3 g creatine increases performance in strength and cardio training.