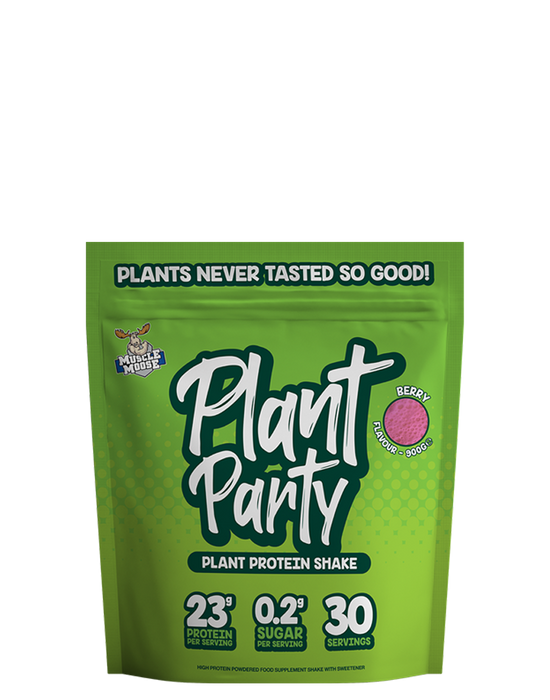 Muscle Moose Plant Party Protein Shake
23g vegan protein
Only 0.2g sugar
Vitamin-rich
Vegan Plant Party Protein Shake Mix - Delicious vegan protein mix
Get ready for a party in your mouth with Muscle Moose's Vegan Plant Party Protein Shake Mix! This blend is vegan-friendly and made from clean, natural food sources that taste even better than comparable whey protein blends.
Each serving of Plant Party contains no less than 23 grams of vegan protein and only 0.2 grams of sugar. In addition, it is packed with essential vitamins that contribute to a balanced and healthy lifestyle. It's time to party!
The Vegan Plant Party Protein Shake Mix is ​​available in a handy package of 900 grams, good for 30 portions. Enjoy this delicious vegetable protein powder and discover the taste explosion it has to offer.
The ingredients of this blend have been carefully formulated to include pea protein isolate, hemp protein, roasted pumpkin seed powder, coconut MCT powder, Sacha Inchi plant protein, natural flavourings, organic beetroot powder, coconut water powder, stabilizer (xanthan gum), Cornish sea salt and sweeteners (sucralose, stevia).
At VNMshop we strive to offer you the best products for a healthy and active lifestyle. In addition to our online shop, we also have a physical store where you can view our products and receive personal advice. We would like to contribute to the awareness of VNMshop, so that more people can benefit from our quality products and excellent service.
Looking for alternatives? Also discover our QNT Vegan Protein and PEAK Soy Protein, available in our store and online. These products offer the same high quality and plant-based benefits that VNMshop is known for.
Order the Vegan Plant Party Protein Shake Mix now and enjoy a delicious and nutritious addition to your diet. Party with Muscle Moose and experience the taste sensation of this vegan protein powder. At VNMshop you will find everything you need for a healthy and active lifestyle.