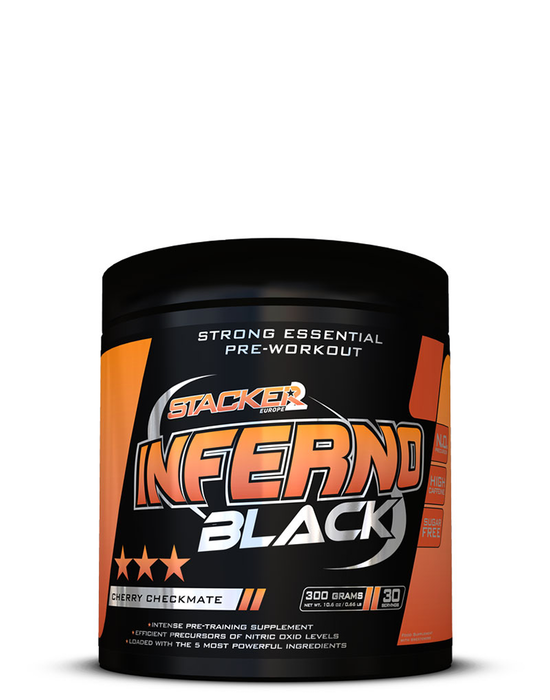 Inferno Black Pre workout
Salt
Original price
€34.95 EUR
High dose
Power & energy
Nice pump
Inferno Black
Inferno Black is a no-nonsense pre-workout formula. A small number of ingredients, but very dosed and therefore super effective. You really get value for money when you use Inferno Black to improve your training result.
Contains the 5 most essential pre-workout ingredients
Contains the 5 most essential pre workout ingredients
L-Citrulline (4g): most efficient precursor to nitrogen values.
L-Arginine AKG (1g): one of the best bioavailable forms of l-arginine,
Beta Alanine (3g): we offer a high dose of beta alanine, which postpones the acidification of muscles.
Taurine (1g): Inferno Black contains this versatile super amino acid in a high dose of bioavailable quality.
Caffeine (300mg): the most effective pre-workout ingredient for high-intensity sports.

Full transparency
Our fully visible, non-proprietary formula shows both the ingredients and the amounts you are supplementing. Quality ingredients. Good and high dose.
Instruction for use: take one scoop of Inferno Black (10g) mixed with 200ml of water. Take this product approximately 15 minutes before training.
Ingredients and nutritional value

Dosage: 10 grams | Content: 300 grams

Dosages per package: 30 Ingredients per 1 scoop (10g)

Inferno Black Matrix

L-citrulline

4 g

Beta Alanine

3 g

L-Arginine (L-Arginine AKG)

1 g

Taurine

1 g

Caffeine (anhydrous)

0,3 g

Inferno Black Support Matrix

Aroma, Artificial Sweetener (Sucralose), Natural Colorants (Beta-Carotene, Red Beet Juice Powder)

0,7 g

Nutritional Value per 100g

Energy

0 kJ / 0 kCal

Fat

0 g

Of which saturated

0 g

Carbohydrates

0 g

Of which is sugar

0 g

Protein

0 g

Salt

0 g
Indication and warning: High caffeine content (300 mg per scoop). This is a dietary supplement. A balanced diet contains enough vitamins and minerals to meet human needs. A healthy lifestyle is important, as is a varied diet. To be used from the age of 18 and keep out of reach of children. Do not exceed the recommended dose. This product is not intended for pregnant or breastfeeding women. Store in a dry place at room temperature. Note: this product is hygroscopic. Keep the lid tightly closed and do not remove the silica bag after opening. Contains sweeteners. The batch number and best before (exp) are stated on the bottom of this product. Never take more than one scoop a day.