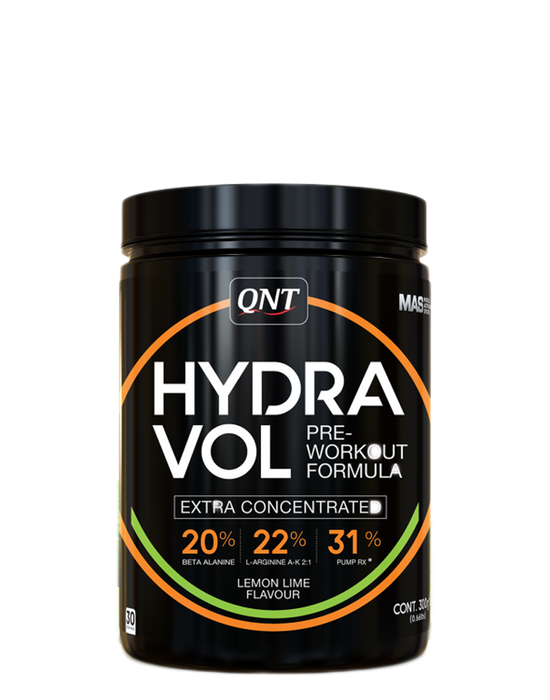 Hydra Full pre-workout
Powerful Pre-Workout Formula
Unparalleled Ingredient List
Maximum Training Boost
- *Powerful Pre-Workout Formula*
Enter the world of peak performance with QNT's Hydra Vol Pre-Workout! If you're looking for a powerful and effective boost to take your training to the next level, Hydra Vol is the right choice for you. This advanced formula is packed with high-quality ingredients carefully formulated to provide you with the energy, strength and focus you need to achieve your fitness goals.
- *Unparalleled Ingredient List*
Each dose of Hydra Vol delivers an impressive blend of performance-enhancing ingredients. With 1525 mg L-Arginine, 2000 mg Beta-Alanine, and 1000 mg Taurine, your body is prepared for intensive exercise and endurance. In addition, it contains 566 mg L-Citrulline to improve blood flow and 660 mg Creatine for increased strength and explosiveness.
- *Maximum Training Boost*
The addition of 250 mg of Rhodiola Rosea extract, together with Vitamin B6 (1,4 mg) and Vitamin B12 (2,4 µg), ensures sharp mental focus and improved vitality. You'll notice fatigue is reduced and your alertness increased, helping you get the most out of every training session.
QNT Hydra Vol is very versatile and can be customized to your needs. Take 1 to 2 scoops, depending on your personal preference and exercise intensity, approximately 30 minutes before your workout. Prepare for an unprecedented training experience as you push the limits of your performance.
With Hydra Vol as your trusty training partner, you'll find you can reach your fitness goals faster and more efficiently than ever before. Show your strength, improve your endurance and reach your peak performance with QNT Hydra Vol Pre-Workout.