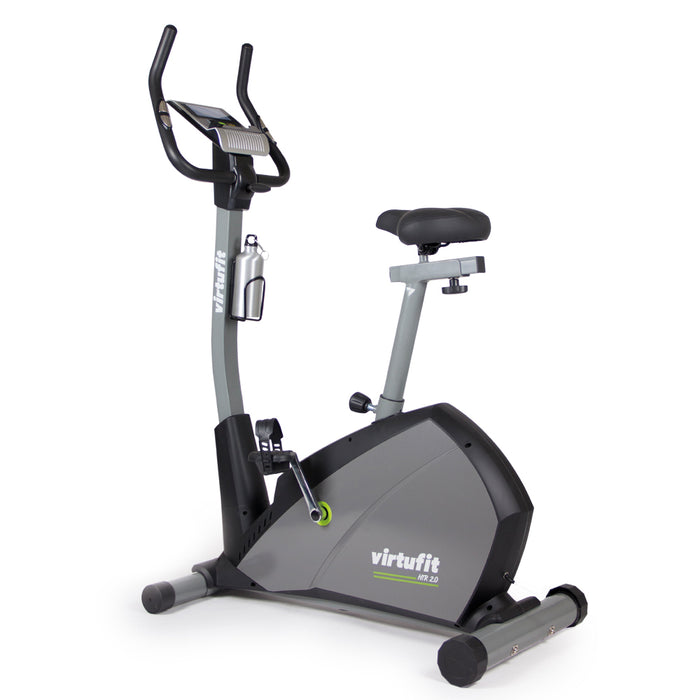 Ergometer Exercise bike
Out of stock
Original price
€399.00 EUR
Current price
€389.00 EUR
Resistance level 8
Loadable up to 120kg
Level adjustable
With the HTR 2.0 Ergometer Exercise Bike you can perform ideal cardio exercise. It is extremely suitable for "low intensity" training. This means that you train more slowly, but last longer. This way you develop less strength, but you improve endurance and burn more fat. You are always stable and comfortable on this exercise bike. The saddle is large and ergonomic and is adjustable both in length and height, this also applies to the handlebars, so that you always have the right cycling position. The exercise bike has a loadable weight of no less than 150 kg. On the pivots are ball bearings that prevent a "stroke" in your movement and keep it flowing.
24 programs
The HTR 2.0 Ergometer Exercise Bike gives you a choice of 24 different programs. In addition to the heart rate programs, there are 14 pre-programmed workouts, 1 manual program, 1 wattage program, 1 body fat program and 4 user programs.
silently
Ball bearings are mounted on the pivots that prevent a "stroke" from coming into your movement and keep it flowing. The 19 kg rotating mass is silently set in motion by the sturdy V-belt. This ensures a smooth cycling movement and that you can train with more training levels.
24 training levels
There is a choice of 24 different levels of resistance. Because of these many resistances, there is a lot of room for variation between exercises without it becoming less effective.
Transport wheels
When you're done exercising, you can easily move the htr 2.0 with the transport wheels. In addition, the bicycle has adjustable feet with which you can adjust it level.
Saddle & Handlebar adjustable
Due to the large and ergonomic shape of the saddle, you are almost automatically in a good sitting position. The saddle can be adjusted both horizontally and vertically and the handlebars can also be angled.
Heart rate sensors
To have your heart rate measured, hold the heart rate sensors. By means of the heart rate program you bring your heart rate close to your target heart rate. This is based on your age, which you set yourself in advance along with the time. Or choose a different heart rate program.