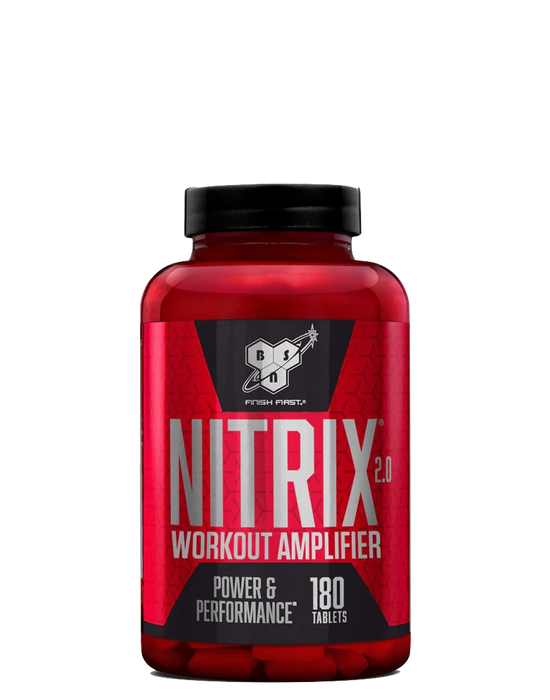 Powerful muscle pump during your workout
Contains creatine, citrulline and essential extracts
Maximize your performance and reach your fitness goals
Enhance your training and experience an unprecedented muscle pump with BSN Nitrix. These powerful tablets are specially formulated to maximize your performance and take your workouts to the next level. With a unique combination of ingredients including creatine, citrulline and other essential extracts, Nitrix provides the ideal support for serious athletes and fitness enthusiasts.
Each serving of Nitrix contains 1,5 grams of creatine, a proven ingredient that helps increase strength and improve performance during intense training sessions. Creatine also helps promote muscle growth and increase endurance.
In addition, Nitrix contains 1,5 grams of citrulline, an amino acid that promotes the production of nitric oxide in the body. Nitric oxide is essential for improving blood flow to the muscles, giving you an impressive muscle pump during your strength training. This increased blood flow can help transport nutrients to the muscles and reduce fatigue.
Nitrix also contains other valuable ingredients, such as hawthorne extract, pomgranate extract, grapeseed extract, cayenne pepper extract, niacin, black pepper extract and reservaratol. These ingredients provide additional benefits such as supporting cardiovascular health, improving blood circulation and promoting a healthy inflammatory response.
At VNMshop, we strive to provide high-quality supplements and products that help you achieve your fitness goals. BSN Nitrix is ​​an excellent choice for those looking to increase their muscle pump and take their training to the next level. Discover the power of Nitrix and order today at VNMshop!
Recommended use: Take 2 tablets of Nitrix 3x per day. Preferably 3 tablets before and 3 tablets after your workout.