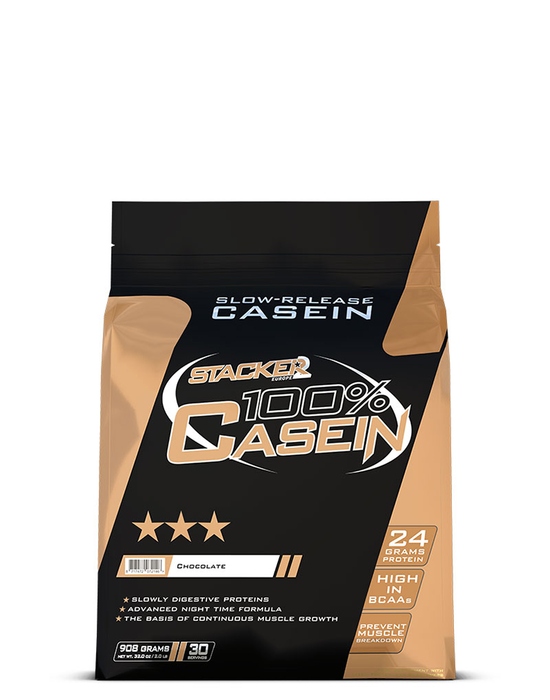 100% Casein
Salt
Original price
€44.95 EUR
Time Released
Low in sugars
Delicious!
100% CASEIN
Do you also want to grow muscles at night?
100% CASEIN ensures that your body receives the most important proteins during your night's sleep. Casein is an absolute must within the nutritional schedule of a strength athlete. With this package you can make 30 shakes, containing the most important proteins of the highest biological values. Each shake provides you with 24 grams of protein that is absorbed in your body in phases.
100% CASEIN is a balanced formula of the highest quality. A complete amino acid profile which is released to the body in phases by the composition. 100% CASEIN contains 5,1 grams of BCAAs and 4,5 grams of glutamine per shake! This provides your muscles with the nutrients necessary to increase your muscle mass throughout the night. Stacker2 Europe 100% CASEIN dissolves completely, resulting in a delicious creamy protein-rich shake!
The benefits of 100% CASEIN
The basis for continuous muscle growth while your body is at rest
Long-term protection against muscle breakdown at night
100% casein, 80% protein (24 grams of protein per shake)
Completely soluble in water, without lumps
A delicious, creamy shake
Contains no added sugars
How do I combine 100% Whey with 100% CASEIN?
For the strength athlete, the use of 100% CASEIN in addition to Stacker2 Europe's top product 100% Whey is the ideal way to maximize your muscle building. During the day you can efficiently supplement your protein needs with a Whey protein shake. But you want to sleep well at night and you need a time-released release of a complete amino acid profile: 100% CASEIN. Combining 100% Whey during the day with 100% Casein at night ensures that you reach your goals faster!